To sample our community you can take ACTLab classes, join ongoing projects, or help plan future events, courses, and curricula. As you get to know other labbies here and around the world you will develop a sense of how you relate to our approaches to education, research, community, and making. This is an indispensable process, since our freewheeling style, with its emphasis on self-motivation, persistent exploration, and risktaking, isn't for everyone.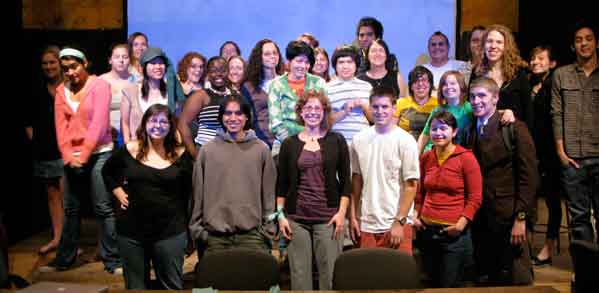 Click here to view sample comments from students, staff and general participants in the program. Below is a list of current participants, as well as a link to the ACTLab Webpage Directory, which holds literally hundreds of studnet websites.
The Repeat Offenders
| | |
| --- | --- |
| Director- | Sandy Stone |
| | |
| Current Graduate Researchers- | Brandon Wiley |
| | Joseph Lopez |
| | |
| Current Undergradaute Researchers- | Randy Kelley |
| | Robert Fancher |
| | Evan Wilson |
| | Katherine Shanely |
| | |
| Steering committee | |
| | |
| Jon Lebkowsky | Sandy Stone |
| Vernon Reed | Drew Davidson |
| Honoria | Patrick Burkhart |
| Jeff Marslett | Sara Bowman |
| Rich MacKinnon | Troy Whitlock |
| Maida Barbour | Knut Graf |
| Vicente Forés | Charles Vestal |
| Brian Murfin | Jeremy Gibson |
| Jeffrey Prothero | Harold Chaput |
| Heather Kelly | Brandon Wiley |
| Janet Staiger | Joseph Lopez |
| Joseph Straubhaar | |
Notable Undergraduate/Graduate Course Projects
: Here's a link to a Perfomance/Video created by Charles Vestal that looks at geography and how we view our spaces and destinations click here
: This video was created by Joseph Lopez. It explores ideas of low tech video solutions (he used a still camera in Movie mode), analog effects, and the use of visual effect click here
- Lindsey Hallam created this project to examine her/America's obsession with fast food click here
: This is a project by Rene and Brad. Talk about bad luck: they had both of their personal projects fall through for final presentations and threw this together literally in a weekend. This project shows what you can do if you put your mind, body, and craziness to work click here
: Here is a link to Charles Vestal's INFOcan, a wireless device which converts selected Internet traffic to sound, allowing the users to audibly know how their stocks and other dynamic internet content are doing click here
This is a video done by Selena Vela which explores the line between flesh and the digital world. The video uses special effects that Selena learned while making it. click here
This video was edited by Bradon Tapp, who created a commentary on how video games and reality are sometimes a little too close for comfort. click here
ACTLab Video Archive-
(Please be patient while we rebuild the archive.)
ACTLab Directory-
Click here to view the ACTLab student directory. The directory contains in alphabetical order the complete list of student websites created for ACTLab courses.